Virtual resources (machines) can be deployed within seconds while deployment of a physical server or a switch requires some planning and a certain degree of automated or manual work.

It is estimated that there are more than seven million different data centers around the world and the largest is the China Telecom Data Center located in the Inner Mongolia Information Park spanning over a grand total of almost one million square meters. The biggest technology companies (Google, Facebook, Amazon and Microsoft) have more than 50 data centers with more than 1.3 million servers inside.

These data centers store not only servers and racks but also all other required equipment like air conditioners, power supplies, batteries, access control systems and many other resources.

Managing data centers includes different types of operational activities with the goal of achieving efficient use of network, server, load, power, and cooling capacities, thus enabling rapid growth and consistently reliable operation despite cost pressure.
Data center infrastructure management
Data center infrastructure management (DCIM) solutions help data center owners and managers to centralize monitoring, management and intelligent capacity planning of all resources placed in a data center. It is generally accepted that organizations with at least a moderate-sized data center (hundreds of racks with a five to eight peak kilowatt load) should consider investing in specialized software for the management of data center infrastructure (DCIM), especially if they have a cost optimization initiative or are planning significant data center changes.
Most of the DCIM solutions support:
Capacity management to calculate loads and capacities in a reliable and meaningful way
Power management and planning to ensure that all energy requirements within the data center are fulfilled
Cooling management and simulation to ensure optimal climatic load and performance
Energy efficiency by giving accurate insight into energy consumption
Cable management used to plan and document the connections between and within data centers
Asset management which provides comprehensive management of all objects and assets located in a data center
Making strategic decisions based on relevant and actionable data
Lifecycle and change management by planning, tracking and documenting setup, modification and expansion tasks on all data center resources
Processes and workflows enabling automatization of certain operational tasks and status tracking of planned changes (either manual or automated)
Reporting and dashboards to present all relevant information in a selective and aggregated form for the various roles within the data center
How can organizations maximize their data center performance?
Fault and performance monitoring (FM, PM) solutions are key components ensuring proactive management of any outages and degradations in and on data center resources. By using a vendor and protocol-independent FM and PM solution, data center managers can monitor any kind of resource in their data center (server, UPS, batteries, power supplies, HVAC, etc.).

Based on collected fault and performance information, different types of alarms can be created and sent to relevant employees or partners. Collected fault and performance information must be enriched by using information stored in a DCIM solution to present relevant employees or partners with all required information. This enables quicker handling of possible errors and shortens the time to repair interval.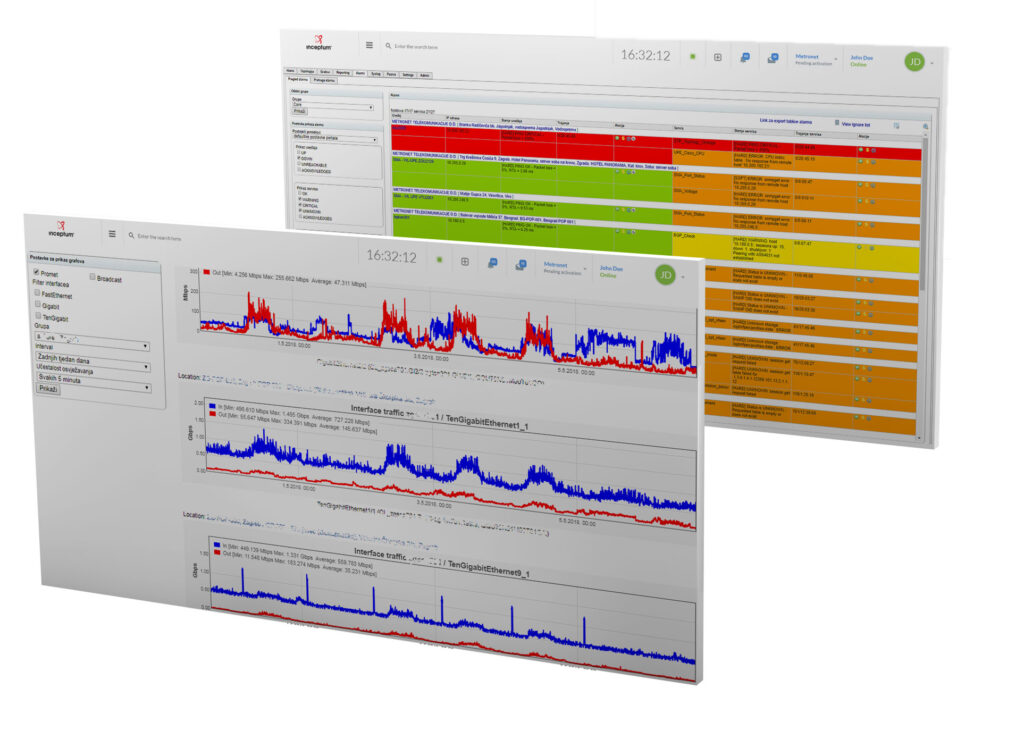 Using a data center status 360° view (or single pane of glass) portal, data center managers can get an overview of all the data center resources' status and performance information and access all data required for operational tasks.
Presence of augmented reality in everyday life
Augmented reality is an enhanced version of reality where a real-world environment is enriched with computer-generated input allowing the two to interact together and be digitally manipulated. While the virtual reality concept requires generation and interaction with an environment that is entirely virtual, augmented reality uses an existing natural environment and simply overlays virtual/digital information on top of it. This enables users of augmented reality to experience a new and improved natural world where virtual information is used as a tool to aid in everyday activities.
Solutions based on augmented reality are implemented in various industries such as:
Retail – enabling the "try it before you buy it" principle while shopping for clothes, shoes, glasses, furniture, etc.
Construction and maintenance – by helping architects, construction crews, developers, and clients to visualize a proposed design in a space and existing conditions before any construction begins
Tourism – where various information can be visualized next to significant monuments or places
Education – by helping educators to engage students with dynamic 3D models, overlays of fun facts, and more information regarding the topics they are learning about
Healthcare – by visualizing critical information for surgeons in 3D and within their field of view
Navigation systems – by improving the safety of navigation and guiding drivers along a virtual path
Inceptum's Holoinventory brings augmented reality that optimizes daily data center operational activities
Daily data center operations are based on information stored in a DCIM solution and fault and performance information gathered from resources placed in the data center itself. This information is visualized in various ways either in a DCIM or FM / PM solution.

During activities in a data center or on resources placed in a data center DCIM, FM, and PM information is not available, or it is available on additional laptops or smartphones/tablets used by employees. It is common practice to write required information on a piece of paper and take that paper to the data center to find/replace/repair/add a certain resource at a desired location (room or rack).

An augmented reality solution can help with operational tasks by providing all relevant information to employees without needing to look up or write anything. Such a solution can optimize and simplify operational activities allowing employees to focus on the actual task.

Inceptum's Holoinventory brings augmented reality to daily data center operational activities by providing a new way to access all relevant information and use it to finish required tasks quicker and better.
Holoinventory uses:
FNT Command as a central DCIM solution that enables total transparency across the entire data center infrastructure; from the facility level through hardware and software to networking, power, and air conditioning
Inceptum's UMBOSS Fault and Performance monitoring modules to enable vendor and protocol independent monitoring and collection of parameters from data center resources
Microsoft HoloLens device to bring a state-of-the-art augmented / mixed reality solution capable of visualizing all relevant information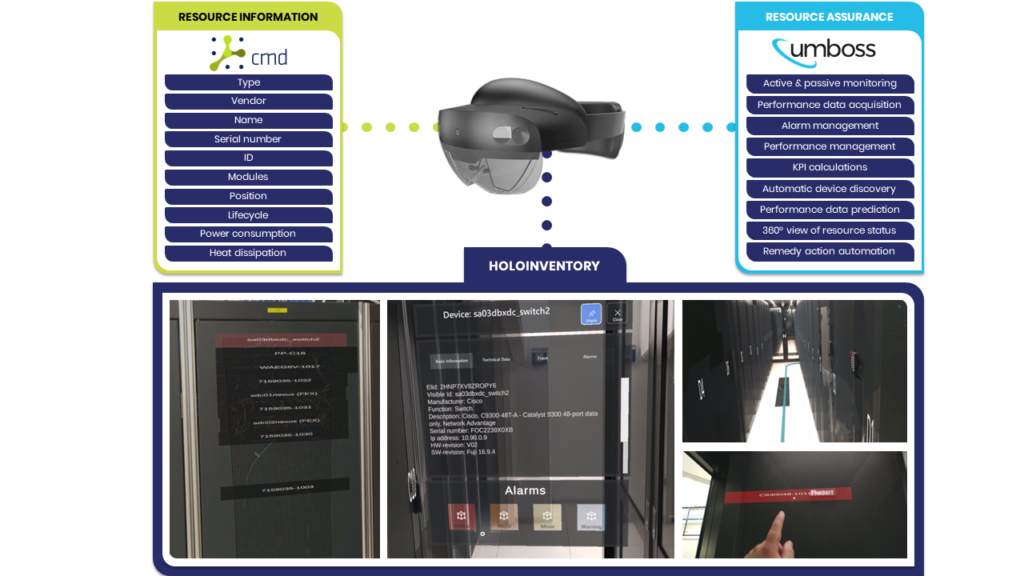 By using Microsoft HoloLens and its localization capabilities, the Holoinventory solution can:
Display interactive holograms for every rack located in a data center
Display rack content without opening the rack doors
Display resource information
Display fault and performance information for a selected resource
Track connections between resources or ports
Help with navigation in the data center and find the required resource and its position
Display planned actions and optimize required tasks
Enable remote assistance from an offsite engineer
Use case – Augmented reality applied in a data center
At 3:45 in the morning, UMBOSS fault monitoring detects an alarm on one of the servers located in a data center and sends emails with all the relevant information to defined employees. The on-site (overnight) engineer sees the alarm and starts to troubleshoot the problem. After troubleshooting, the engineer decides to replace the power module on the server. The engineer tries to find the server in the data center but since they are a new employee they still have problems with finding their way around the data center. The engineer calls and wakes up the on-call engineer who navigates them through the data center and they successfully replace the power supply.

By using Holoinventory, the on-site engineer would simply search the server name and Holoinventory would navigate them through the data center displaying the optimal route between the racks and other resources. Once the rack and the server is located, Holoinventory would display all relevant DCIM and FM information allowing the engineer to use both hands to replace the power supply.

After successfully replacing the power supply, the FNT Command DCIM solution is updated and the UMBOSS fault monitoring alarm is cleared. All this information can be visualized using the Holoinventory solution based on augmented reality.