IT infrastructure management with a touch of telco
Our engineers have incorporated their mixed telecom and enterprise IT experience into a software product suite called UMBOSS 4E. It provides your enterprise with a unified platform to manage data center, cloud and network infrastructure.

It integrates with, and consolidates data from, all other existing IT management systems. Its single pane of glass portal provides your IT engineers with a 360° view over enterprise IT resources, their performance and the means to manage any outage or degradation easily.
Modules that understand your IT
UMBOSS 4E is a suite of modules that you can combine to build the right IT management solution for your needs. With multiple module combination possibilities, you create an integrated hybrid infrastructure management solution: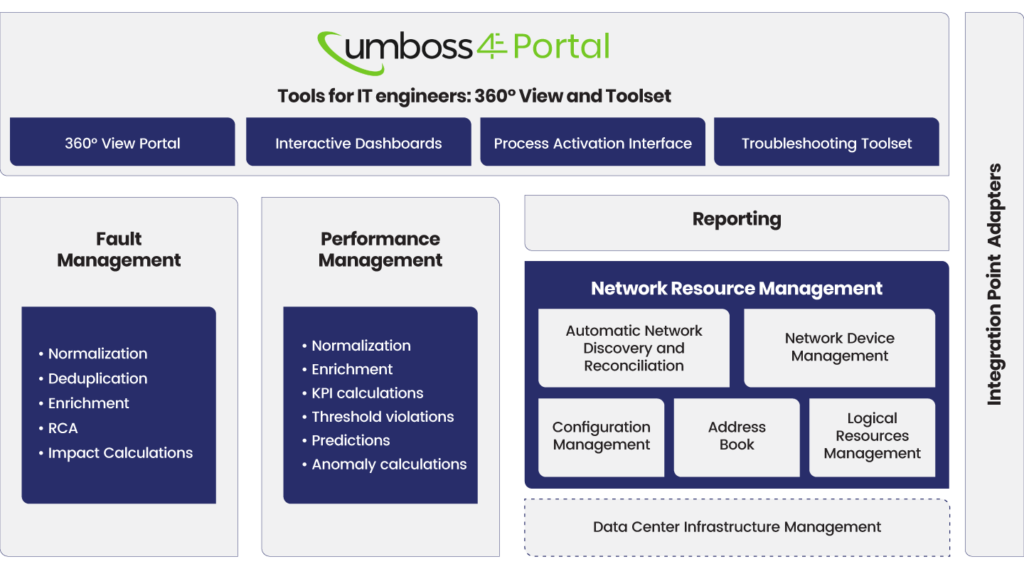 Umbrella and modularity – a perfect match
Cross-platform management
Fully vendor-agnostic and vendor-independent
Fault, performance and inventory management all under one hood
Fault and performance data consolidation
Resource discovery and resource inventory management
Mapping of network, data center and cloud inventory with fault and performance data
360° visibility over all data
Designed to integrate with existing IT environment
Full search functionality across all available IT domains
These benefits help you do more:
Insight into hybrid data center infrastructure health status
Prompt reaction to any problem
Quickly resolved issues
Hybrid data center and network outages minimized
Fully supported IT infrastructure operations
Timely management reports