Keep network inventory accurate and up to date
The UMBOSS Automatic Discovery and Reconciliation Management (ADM) Module is specialized in the discovery of active network components and topologies as well as other logical resources provisioned on devices.

When network inventory is being newly established and initial network data needs to be stored, UMBOSS ADM plays a crucial part. That inventory should be regularly updated – UMBOSS ADM does the hard work for you.

It is vendor and protocol agnostic and expandable to support new network elements. Also, it supports most common vendors and multiple communication protocols out-of-the-box.
Complex heuristic algorithms are key
Topology discovery is a process based on complex heuristic algorithms. UMBOSS ADM supports various protocols to discover topology on different network layers, crawls through devices of many vendors, builds topology structure, and documents it.

Some of the protocols supported by UMBOSS ADM are:
L2 Topology (LLDP)
L3 Topology
BGP
IP/MPLLS
IS-IS
OSPF
RSVP
BFD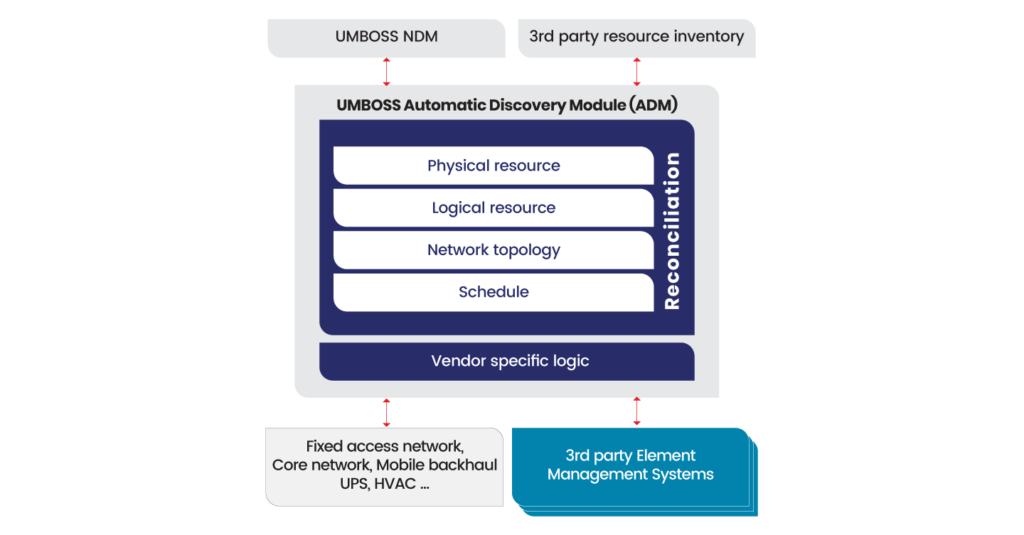 Really great features of UMBOSS ADM
Discovered information is reconciled using ADM's Reconciliation Engine (RE).
Reconciliation rules define how and when the newly discovered inventory data is updated, added, replaced, or even deleted in your resource inventory.
UMBOSS ADM is integrated with UMBOSS NDM and other commercially available inventory systems.
Discovered device information is manually or automatically enriched with additional information such as geographic location, address, customer (if any), etc.
Discovery can be invoked manually, or jobs can be scheduled to provide regular discovery and reconciliation processes.
UMBOSS ADM provides a specialized administration application that allows the management of discovery and reconciliation processes.
Benefits of automatic discovery are clear
Live network inventory data is regularly reconciled with resource inventory
No device is added or removed without full information about the event
Engineers are confident that all network elements are monitored and managed