Proactively manage outages and degradations to improve efficiency
The UMBOSS Fault Management (FM) Module collects and processes events from heterogeneous, multi-technology, and multi-vendor communication networks and computing environments. It supports the active and passive handling of failures in physical and virtual network, data center and cloud environments.

Vendor and protocol agnostic, it supports collection of SNMP traps, syslog messages and messages from any third party monitoring systems, element managers and management platforms that support standard messaging protocols.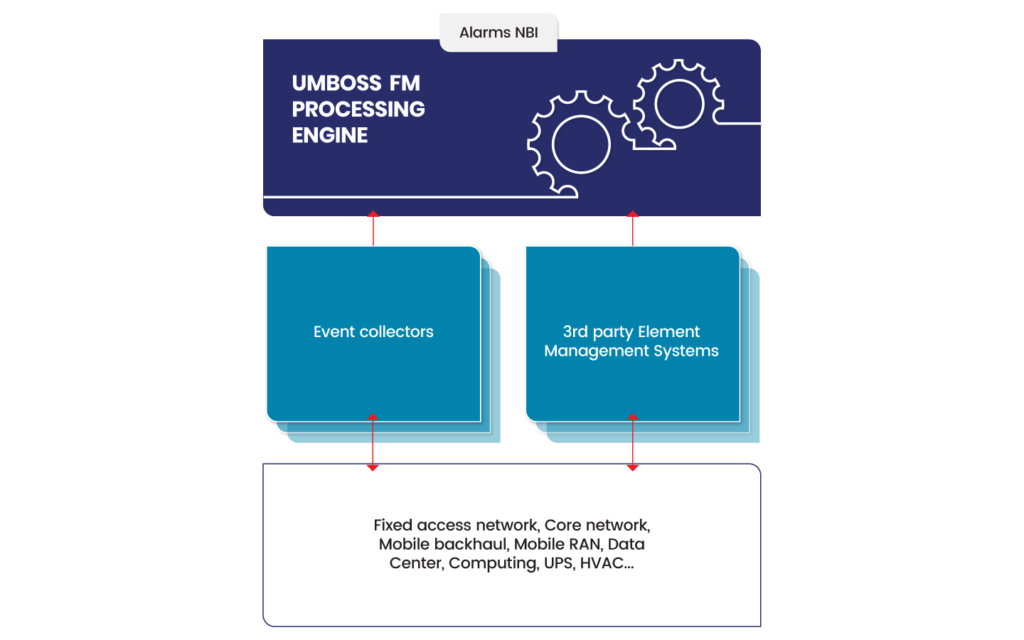 Unified fault management of consolidated events across different domains
UMBOSS FM is all about the fault management of consolidated events from different network, data center and cloud domains.

Regardless of their source, all alarms are normalized, deduplicated and enriched with data from external systems such as CRM, Ticketing, ERP, etc.

Alarms are further processed in an analytical engine to provide correlation, suppression, synthetic alarms, root cause analysis and many other capabilities.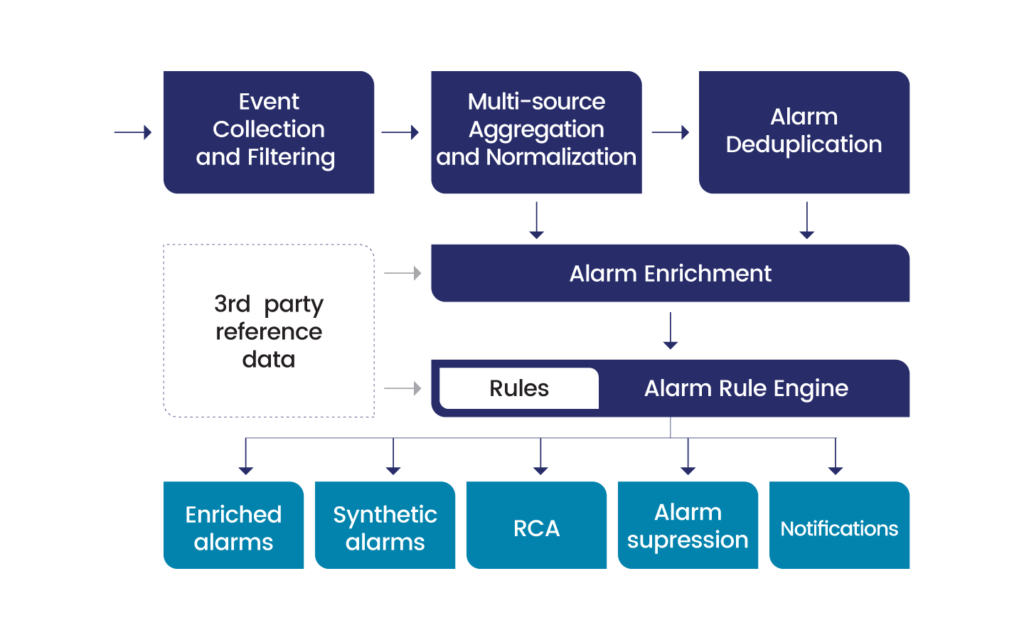 Key features of UMBOSS FM
All alarm information is accessible from the UMBOSS Portal which provides a 360° view over the network, services, customers and other relevant information.
An active alarms dashboard provides different alarm representation, filtering, grouping and other capabilities.
Data is partitioned by a configurable time period and there is no limit on the retention period for alarm history data.
Reporting module provides various customizable alarm reporting capabilities.
Administration tool allows configuration of alarm suppression and correlation rules which may result in creating synthetic alarms to detect different real-world situations.
Check out how alarm data is visualized in the UMBOSS Portal …
Benefits of unified fault management
Consolidated alarms across different domains on an easy-to-use dashboard
No alarm goes undetected
Full forensics of past events
Quick localization of network/computing issues
Less false positive alarms
More actual network issues detected
Timely reaction to network issues will result in higher availability
Less stress on network and IT engineers