Streamline performance management of your entire network
The UMBOSS Performance Management Module provides collection of large volumes of performance data from any source, its storage in a normalized form and advanced processing and analysis. The most popular SNMP and non-SNMP collectors are supported out-of-the-box.

Designed to be a universal data series processing framework, UMBOSS PM is based on a powerful collector engine capable of processing millions of variables with five minutes or less resolution time. Its scalable design and highly customizable architecture make it suitable for telecoms of all sizes.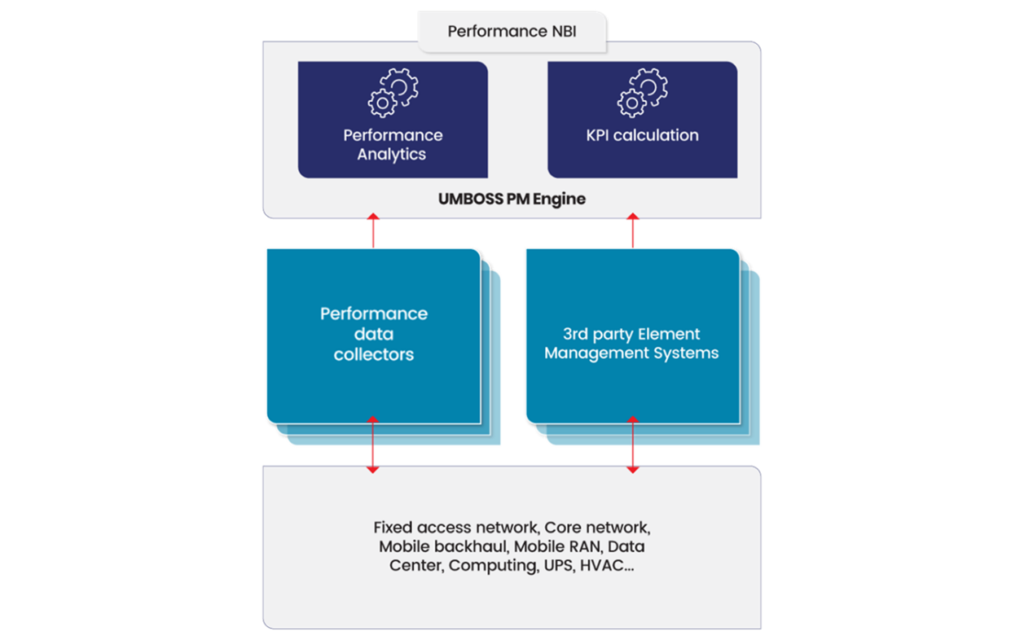 UMBOSS PM stores performance data of all key elements of the monitored infrastructure such as processors and memory utilization of active devices, traffic on all network interfaces, status of temperature sensors, battery status on UPS devices, etc. The number and type of collected parameters can be modified according to actual needs.
Unified performance management across multiple domains
UMBOSS PM is all about performance data consolidation. All collected performance data is filtered, aggregated, normalized and enriched with data from external systems such as Ticketing, ERP, CRM, etc.

The data is further used to calculate a number of KPIs that suit your particular needs and applications. This is achieved using a KPI calculation engine and a user-friendly KPI definition rule engine.

Finally, all obtained performance and KPIs time series data are handed over to a performance analytics engine that performs threshold calculations and triggers threshold violation alarms.

UMBOSS PM further suggests optimal threshold values and provides higher analytical functions such as trend predictions and forecasting.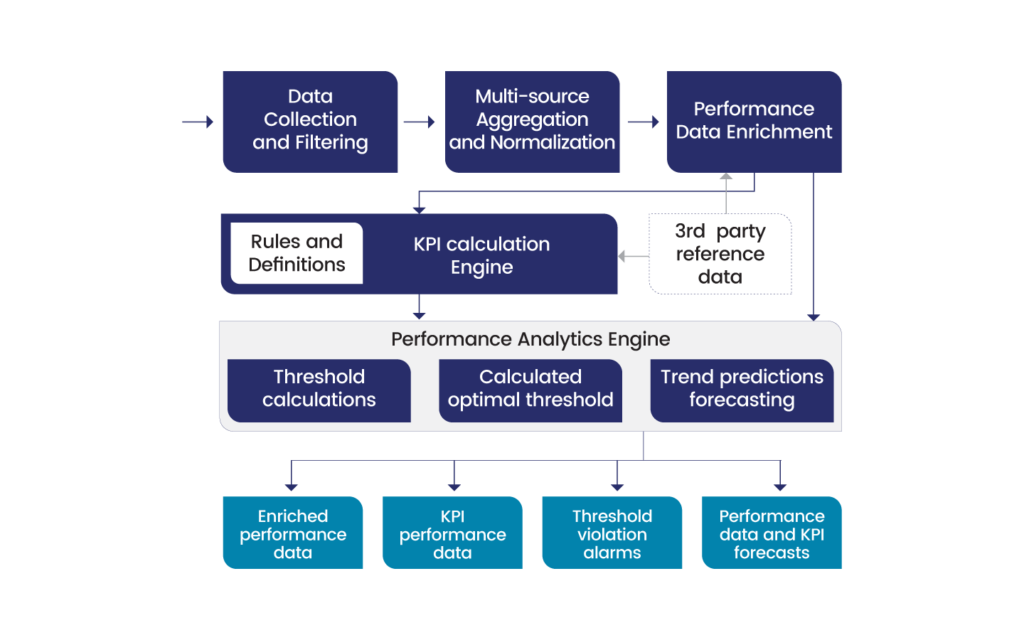 Key features of UMBOSS PM
Collection of performance data (PD) from different sources and their normalization and store
KPI modeling and calculations for improved insight
Detection of threshold violation with upper and lower value warnings: minor, major, and critical thresholds for different time periods of day, week, month, and year
Advanced analytical functionalities such as: trend predictions and forecasting, proactive reporting, automatic threshold suggestions
Administration tool allows configuration of all performance metrics, object types and graph templates with feature-rich graphing properties
All performance data is accessible from the UMBOSS Portal, one easily searches for an object and selects performance variables to inspect
Performance data is easily exported in various formats for further use and processing
Benefits of unified performance management
Single performance management across different domains
Unified performance analysis of network and IT performance
End-to-end visibility and reporting
Preemptive reaction to forthcoming network or computing issues
Higher availability of network, IT systems and services
Faster troubleshooting with relevant data