UMBOSS stands for umbrella OSS
Our engineers have embedded their experience into a software product suite that is a true implementation of UMBrella OSS – UMBOSS.

It integrates with, and consolidates data from, all OSS and BSS systems. Its single pane of glass portal provides your operations engineers with a 360° view over resources, their performance, services provided and customers served.

UMBOSS is a vehicle that helps evolve your telecom into a service and customer centric operator.
Modular at the core
Thanks to its modularity, UMBOSS can be used as an umbrella for your existing OSS, green field OSS projects, or anything between these two ends.

With multiple module combination possibilities, you create an integrated umbrella environment that suits your needs: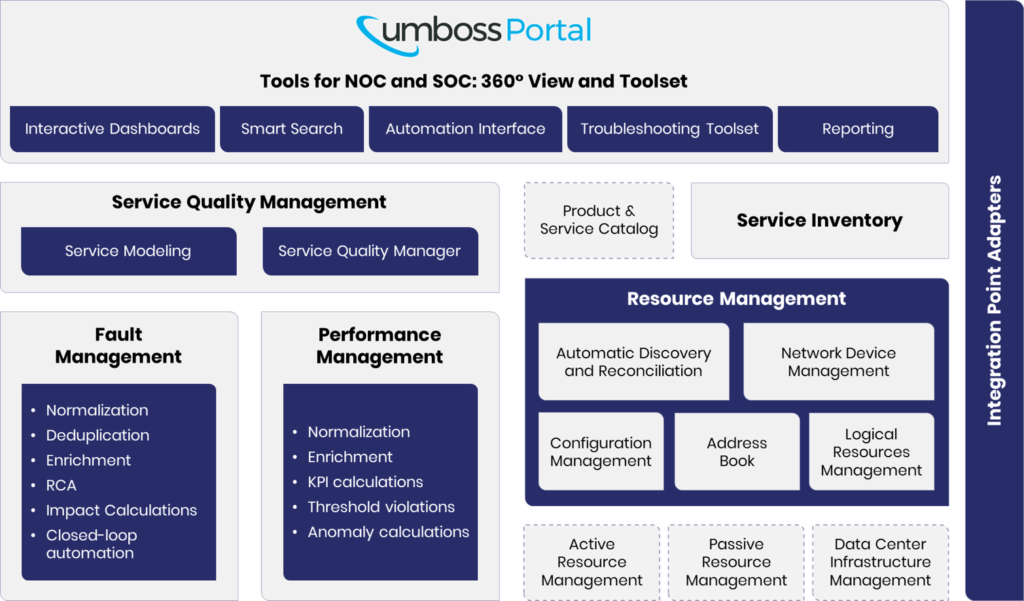 Umbrella and modularity – a perfect match
Fault and performance data consolidation
Designed to integrate with existing OSS and BSS environment
Resource discovery and resource inventory management
Fault, performance and resource inventory management all under one hood
Fully vendor-agnostic
Mapping of network, data center and cloud inventory with fault and performance data
Service inventory to map services to resources
Resource performance data mapped to customer, service and other business data
Full search functionality across all OSS and BSS data domains
360° visibility over all data
These benefits help you do more:
Insight into network and health status
Prompt reaction to any problem
Quickly resolved issues
Network outages minimized
Fully supported NOC
Timely management reports

UMBOSS expands beyond assurance
UMBOSS, with technology partners, expands its reach to include the full range of OSS with solutions covering:
Service fulfillment
End device management
Closed-loop automation
Analytics
Ticketing
etc.