Let's see what's out there in my network
You must have faced the situation where you had no idea what devices were in your network or data center. Maybe you even suspected that new devices were added or removed without your knowledge and consent…

In telecom, data center and complex enterprise environments, a network is always changing. Managing proper inventory is difficult regardless of how precise internal change management processes are and how strict their execution is.

To manage your network efficiently, you must have resource inventory with exact information about devices and relevant inventory data.
Scan the whole network and fetch actual inventory data
The best approach to address this challenging situation is to implement automated discovery processes that will fetch actual physical and logical information from the network and data center and store the data in your network resource inventory.

The UMBOSS Automatic Discovery and Reconciliation Management (ADM) Module is specialized in the discovery of active network components and topologies as well as other logical resources provisioned on the devices. It is crucial when network inventory is being newly established and initial network data should be stored. Later it must be regularly updated.

Device discovery is a process through which ADM connects to a particular network component and gets key information about the device as well as its internal components: vendor, product and serial number, chassis, slot, motherboard, port, SFP, etc. It also fetches logical resources and combines them to discover network topologies.

ADM uses different protocols to perform the task (SNMP, Telent, SSH, HTTP, etc.) but it can also be configured to connect to element managers (EMS) and fetch corresponding data. ADM can connect to EMSs using protocols like REST, SOAP, CORBA, etc. It uses various network protocol data to discover different topologies (BGP, IS-IS, OSPF, L2, L3, etc.).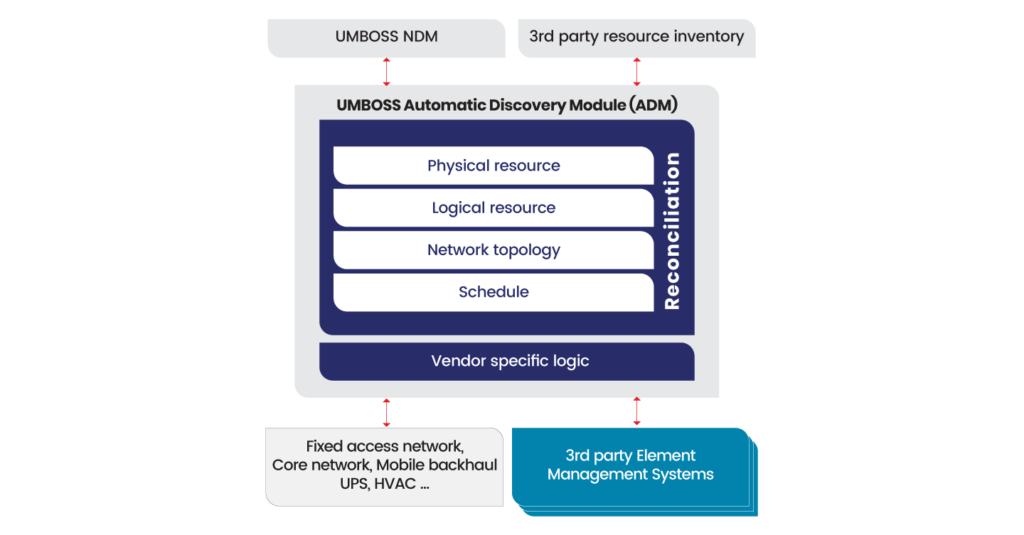 Really good features of UMBOSS ADM
Discovered information is reconciled using ADM's Reconciliation Engine (RE).
Reconciliation rules define how and when the newly discovered inventory data is updated, added, replaced, or even deleted in your resource inventory.
UMBOSS ADM is integrated with UMBOSS NDM and other commercially available inventory systems.
Discovered device information is manually or automatically enriched with additional information such as geographic location, address, customer (if any), etc.
There is a track record of all changes.
Discovery can be invoked manually, or jobs can be scheduled to provide regular discovery and reconciliation processes.
UMBOSS ADM provides a specialized administration application that allows the management of discovery and reconciliation processes.
Benefits of automatic discovery are clear
Live network inventory data is regularly reconciled with resource inventory
No device is added or removed without full information about the event
Engineers are confident that all network elements are monitored and managed