Wondering how to use your NOC as a profit center & boost satisfaction of your B2B customers?
Being a great telecom means engaging all technical and human resources to offer maximum content and quality to your customers. This is especially true when dealing with enterprise (B2B) customers.

What can you additionally offer your customers when you're in network and service operations?

Your monitoring system runs smoothly, your NOC staff is well trained, and you provide excellent customer support. These are excellent core strengths. You also know that all enterprises, especially ones with smaller IT departments, dream about having telco-grade systems. They want some of that telecom "greatness" in their own IT environment.
NMS and NOC as a Service
Make it a win-win situation. Provide your customers with the monitoring of their own telecom services as well as their own network and data center resources with a cloud based NMS tool and NOC services. Seamless integration will make it seem like they have their own telco-grade monitoring system. Yes, this is content, but where is excellence?

Your service will include your NOC/SOC staff keeping an eye on your customer's alarms and resolution of detected issues, especially during non-working hours.

In the end, your customers will benefit both operationally and financially with a managed NOC service. Sounds good in theory, but how can you implement this idea?
Several models – take your pick
With UMBOSS, you can transform your current NOC operational expenditures (OPEX) into a revenue generating service with your NOC at the heart of this profit center. There are many models possible, these are some of them:
Hosted service model – the customer completely outsources NOC functions for their own network
Dedicated model – the customer is provided with a copy of network monitoring tools, processes and best practices for its own infrastructure
Mixed model – the customer is provided with a copy of network monitoring tools, processes and best practices for its own infrastructure, but you still provide NOC resources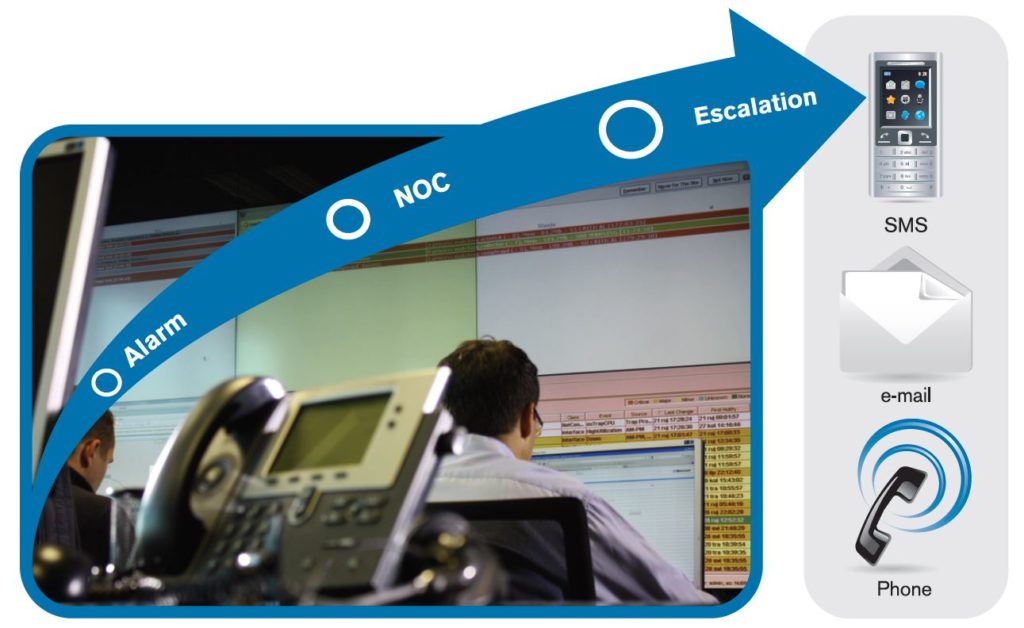 Benefits for telecom operators
Enhances service portfolio
Closer and tighter relationship with customers
Additional value-add service with high profit margin
Improved SLA capability, easier to verify from both sides
Better utilization and monetization of existing NOC resources
Return on investment for internal NOC tools and procedures that have to be deployed anyway
Benefits for enterprise customers
Faster service times
Reduced operational costs
Streamlined network operations
Simplified relationship with service provider
No need to invest in a network monitoring solution
Acquisition of best practices and proven monitoring technology