Alarms arriving from everywhere
Remember the last time you experienced a major outage in the network? You had to provide a list of customers and services affected, but you had unrelated fault management systems for separate network segments. Your engineers had to respond promptly but did not have the capability to get proper data on the situation. A really stressful way to work.

Perhaps your organization has a combination of various element managers (e.g., Huawei U2000, Ericsson SOME, etc.), fault management systems for various network segments (e.g., NetCool, HP NNMi) or alarm collectors for different domains (e.g., Nagios, ZABBIX, etc.) …

If so, when there's a critical event in the network, each of the event sources may generate alarms independently. Network and IT engineers are faced with the challenge of quickly detecting the type, nature, and location of the issue by analyzing multiple alarms from different fault management systems.
Consolidation of alarms is a must
Implementing a fault management system to specifically address the aggregation of network and computing/DC events from multiple sources (event collectors) will provide unified fault management across different domains.

The UMBOSS Fault Management (FM) Module collects and processes events from heterogeneous, multi-technology, and multi-vendor communication networks.

Vendor and protocol agnostic, it supports collection of SNMP traps, syslog messages and messages from any third-party monitoring and EMS systems that support standard messaging protocols.

The diagram below shows how UMBOSS FM integrates with a multi-vendor, multi-domain environment: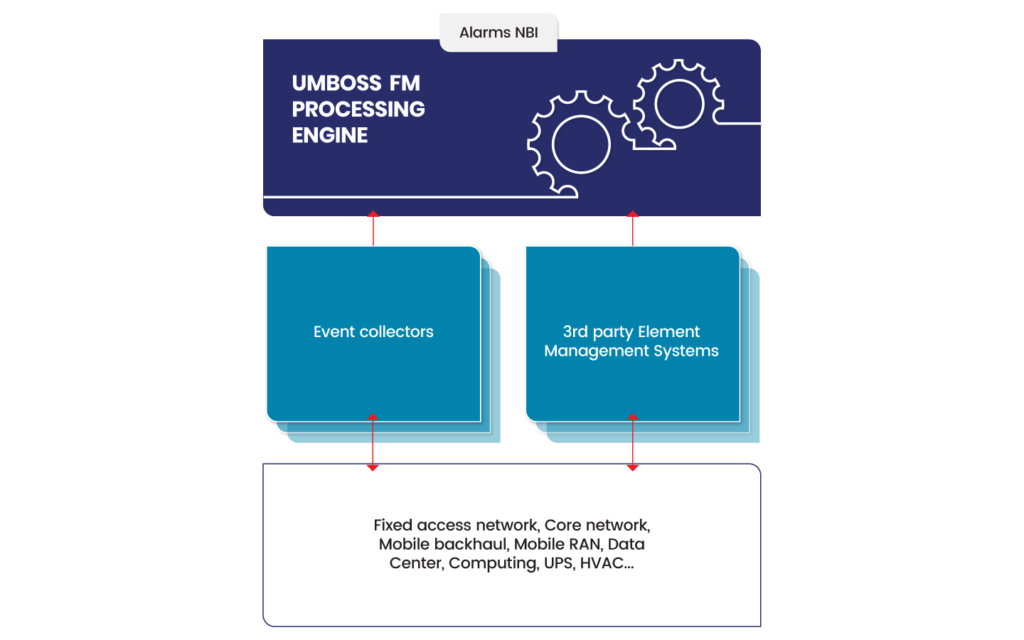 Regardless of their source, all alarms are normalized, deduplicated and enriched with data from external systems such as CRM, Ticketing, ERP, ITSM, etc. Enriched alarms contain technical and non-technical data relevant for fast and accurate troubleshooting (e.g. contact person, location of faulty device, etc.).
Key features of UMBOSS FM
All alarm information is accessible from the UMBOSS Portal which provides a 360° view over the network, services, customers and other relevant information.
An active alarms dashboard provides different alarm representation, filtering, grouping and other capabilities.
Data is partitioned by a configurable time period and there is no limit on the retention period for alarm history data.
Reporting module provides various customizable alarm reporting capabilities.
Administration tool allows configuration of alarm suppression and correlation rules which may result in creating synthetic alarms to detect different real-world situations.
Benefits of alarm consolidation
Consolidated alarms across different domains on an easy-to-use dashboard
No alarm goes undetected
Full forensics of past events
Quick localization of network/computing issues
Less false positive alarms
More actual network issues detected
Timely reaction to network issues will result in higher availability
Less stress on network and IT engineers