Getting operational data fast is crucial
Imagine a simple situation where upon receiving an alarm, you can proactively inform your customer that there's an issue and it's being taken care of. Now that's amazing customer service.

When an alarm occurs, being able to quickly access operational data on alarm nature, location, affected services and customers is essential. Unfortunately, alarm information received from a device or element manager is limited to information provided by the device itself. This information lacks non-technical data such as customer name, contact person, location description, etc.

Manually correlating alarms with information from inventory, CRM, ERP, GIS information or even billing can be a frustrating and lengthy process. What can be done? Let the fault management system do the job for you.
Alarm enrichment capability enables you to be proactive
The UMBOSS Fault Management (FM) Module has been designed with alarm enrichment capability as one of its primary functions.

An alarm processing engine, adds data from external systems such as CRM, Ticketing, ERP, etc., to each alarm. Which information is added, and how, is fully configurable and customizable, as this depends upon your organization's specific needs and the external systems that provide reference information (CRMs, network inventories, CMDBs, etc.).

The diagram below shows this process: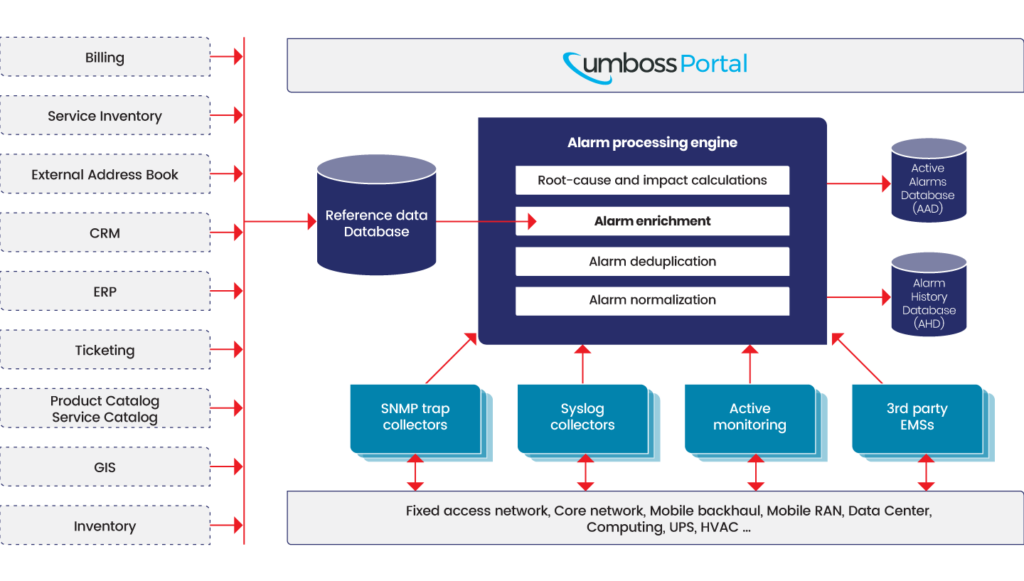 How the enrichment process works
Information from external systems is extracted and loaded to the Reference Data Database by use of specific extraction and load procedures implemented for each system separately.
Alarm and reference data are interrelated by matching reference data to alarm details as sent by the network.
The UMBOSS Portal displays alarm information with enriched data fields (e.g., customer name, device location latitude and longitude, city, street and street no., region, etc.).
Direct access to device and performance information is enabled by the UMBOSS Portal: connection to its CLI, execution of ping, traceroute and other functions are also available.
When combined with UMBOSS NDM (Network Device Manager) and UMBOSS AB (Address Book), enrichment functionality is provided off the shelf.
Your operations engineers deserve to experience these benefits
Significantly reduced time to resolve any issue because alarm enrichment accelerates network alarm localization
"Single pane of glass" capability with network issues, devices, location, customers, services, and other data displayed on one screen
Easy operational reporting – build your own reports on locations, customers and services affected by the alarm
External knowledge database provides instructions to help handle specific alarms