Proper data available in a NOC/SOC ensures great customer support
If you ever worked in a NOC/SOC or have been responsible for its operation, you understand how stressful and challenging it is to run operations when the number of incidents is huge and you have to protect the reputation of your organization. Having insufficient relevant data at your disposal when an outage happens will push all your NOC/SOC engineers to the limit.

Why is this so? Well, managing a network does not only include taking care of network devices, their functions, and their interconnectivity. True management in your NOC (Network Operations Center) or SOC (Service Operations Center) means you must put alarms and performance degradation events into context alongside customers, their locations, services, and other non-technical data as well as network inventory.
This is how your NOC/SOC improves efficiency
Your organization must find a way to provide your NOC/SOC engineers with an integrated view over all data about the issue (device, network, service, location, customer, etc.). In other words, set up your engineers to resolve issues as fast as possible.

UMBOSS is a product suite of modules with a shared data model designed to provide engineers with a 360° view over all relevant data they need. This is available through the UMBOSS Portal – a true single pane of glass for your NOC/SOC.

The model encompasses technical as well as non-technical parameters. It maps inventory data (devices, interfaces, routing protocols, network services, etc.) to business data (customer, product definition, service definition, locations, service instances, etc.). The model is further mapped to external master data (e.g., inventory, product and service catalogue, service inventory, CRM, billing, etc.) through UMBOSS Integration Point Adapters (IPAs).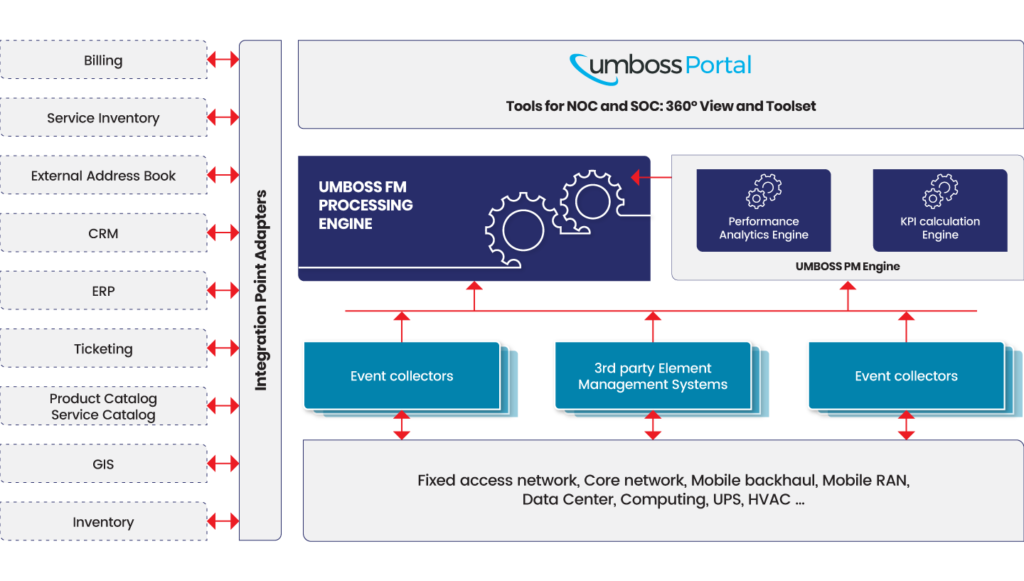 UMBOSS Portal highlights
UMBOSS Portal's manipulation layer implements advanced cross-search algorithms that retrieve information based on any search criteria across different data domains.
Fault and Performance data originating in different domains are consolidated into a unified stream of event and performance data.
The umbrella engine of the UMBOSS Portal combines all the data to provide a true 360° view over network, customers, and services.
How your NOC/SOC benefits
NOC/SOC engineers have access to all the data needed to fix the issue quickly and correctly.
NOC/SOC is presented with federated data needed for its operations.
Enriched alarms enable immediate reaction to specific network issues allowing for call deflection in the provider's call center.
Information can be provided to third party systems, like ticketing and customer-facing self-care portals.
End-customer gets proper and timely feedback.