Proactively manage outages and performance degradation of your infrastructure
Constant monitoring of your IT infrastructure and services is a key element of unified management. UMBOSS 4E provides Fault Management and Performance Management Modules that work together to provide continuous monitoring.

UMBOSS 4E collects all event and performance data in one place. It fetches the information directly or by integrating with existing 3rd party management systems or collectors. Then it correlates fault and performance data with data from external systems, like ITSM or CMDB, and clearly presents health status to IT engineers.

Your IT operations benefit from timely information on outages and performance degradation. IT engineers can pinpoint the problem and troubleshoot issues fast.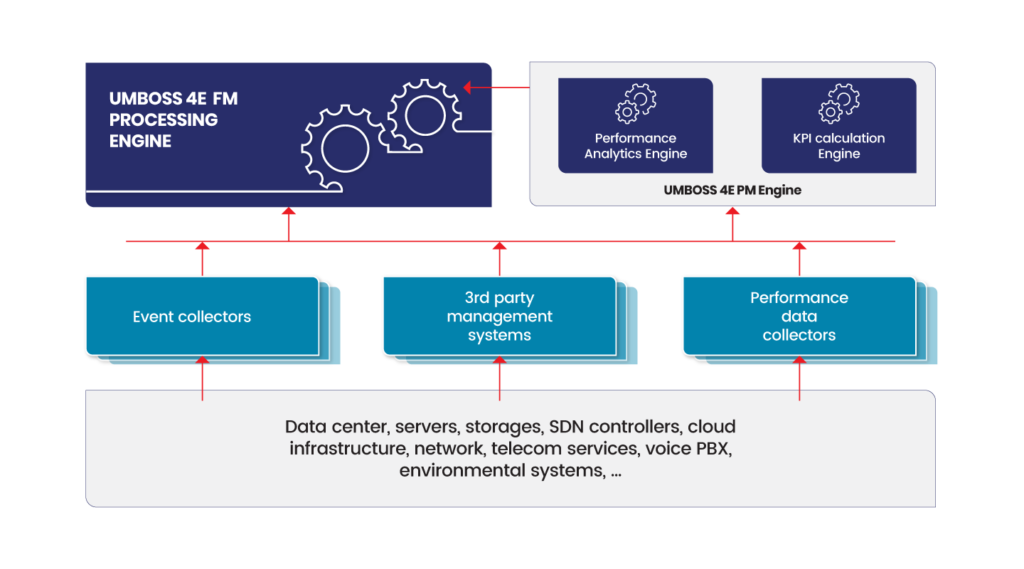 UMBOSS 4E Fault Management (FM) Module
UMBOSS 4E FM collects and processes events from heterogeneous, multi-technology, and multi-vendor enterprise networks, data centers and cloud environments. It supports the active and passive handling of failures in a monitored infrastructure.

Vendor and protocol agnostic, it supports collection of SNMP traps, streaming telemetry, syslog messages and messages from any third party monitoring systems and management platforms that support standard messaging protocols.

UMBOSS 4E FM is all about the fault management of consolidated events from different data center, network, and cloud domains. Regardless of their source, all alarms are normalized, deduplicated and enriched with data from external systems such as ITSM, CMDB, etc.

Alarms are further processed in an analytical engine to provide correlation, suppression, synthetic alarms, root cause analysis and many other capabilities.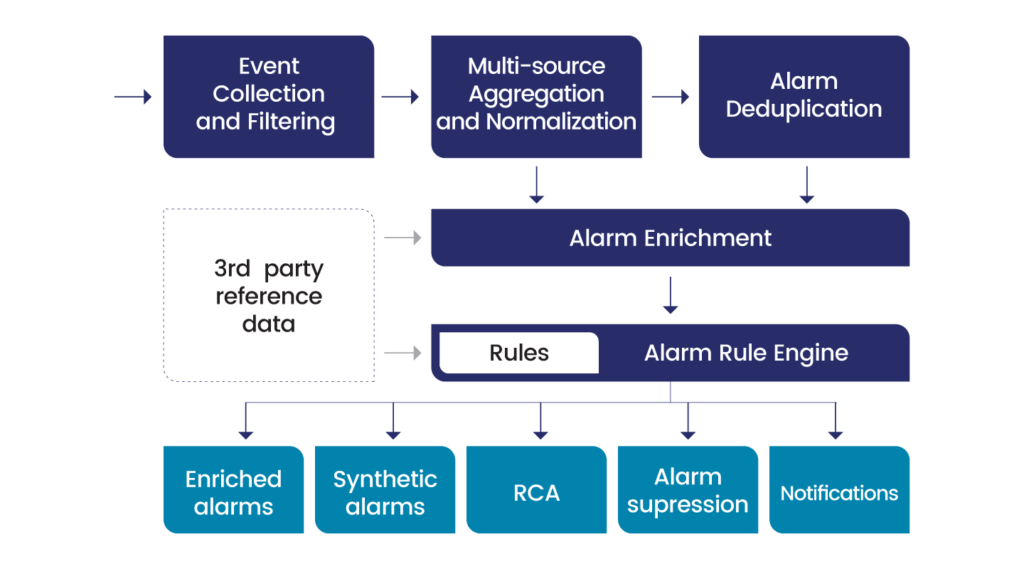 UMBOSS 4E Performance Management (PM) Module
UMBOSS 4E PM provides collection of large volumes of performance data from any source, its storage in a normalized form and advanced processing and analysis. The most popular SNMP and non-SNMP collectors are supported out-of-the-box.

Designed to be a universal data series processing framework, UMBOSS 4E PM is based on a powerful collector engine capable of processing millions of variables with five minutes or less resolution time. Its scalable design and highly customizable architecture make it suitable for enterprise networks, data centers and cloud infrastructures of all sizes.

UMBOSS 4E PM is all about performance data consolidation. All collected performance data is filtered, aggregated, normalized and enriched with data from external systems such as ITSM, CMDB, etc.

The data is further used to calculate a number of KPIs that suit your particular needs and applications. This is achieved using a KPI calculation engine and a user-friendly KPI definition rule engine.

Finally, all obtained performance and KPIs time series data are handed over to a performance analytics engine that performs threshold calculations and triggers threshold violation alarms.

UMBOSS 4E PM further suggests optimal threshold values and provides higher analytical functions such as trend predictions and forecasting.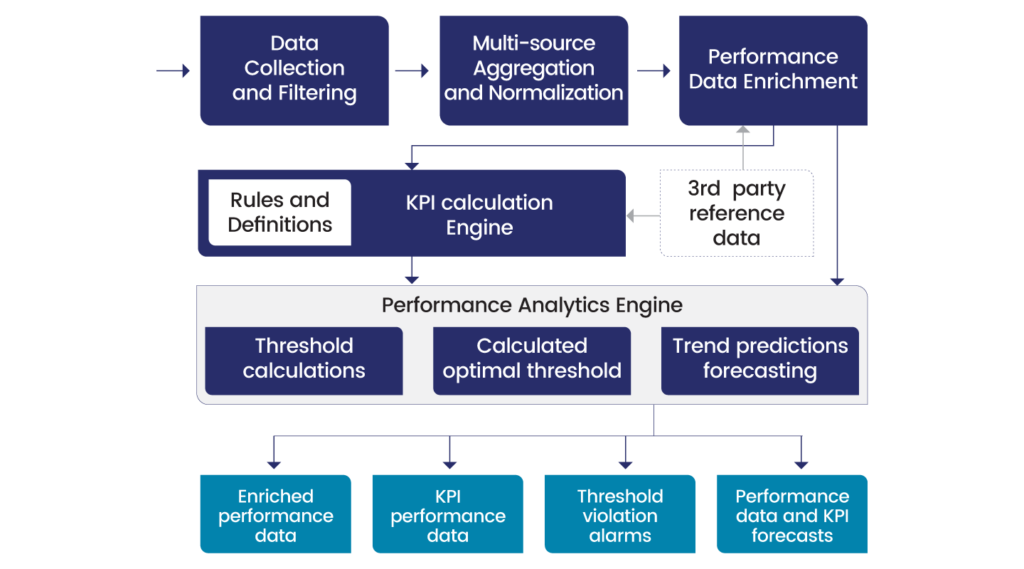 Key features of unified FM and PM
Collection of alarm and performance data from different sources and their normalization and store, KPIs calculations
Advanced capabilities such as: alarm correlations, RCA, flexible threshold violation alarming
All alarm and performance information is accessible from the UMBOSS 4E Portal
An active alarms dashboard provides different alarm representation, filtering, grouping and other capabilities
UMBOSS 4E Portal allows easy navigation through all performance variables and KPIs
All data can easily be exported in various formats and different alarm and performance reports can be generated
Administration tools allow flexible configuration of all FM and PM functions
Advanced analytical functionalities such as: trend predictions and forecasting, proactive reporting, automatic threshold suggestions
Benefits of unified FM and PM
Unified monitoring based on consolidated alarms and performance data across different domains on an easy-to-use dashboard
Quick localization of IT infrastructure issues and faster troubleshooting
Preemptive reaction to forthcoming IT infrastructure issues result in higher availability and reliability of IT services
End-to-end visibility and reporting
Less false positive alarms